2022 advertising funnel template for small B2C companies
Mitka Yanakieva
Founder & Chief Executive Officer
Est. reading time:
4 minutes
The pandemic sped up commerce digitalization, and online retail has been booming since 2020. Many local stores had to shift to taking orders online and delivering to homes, which made them realize that they can now reach customers beyond their communities. Other brick-and-mortar companies, like hair salons, had to gain more business by using digital marketing tools. The B2C world is more competitive now, so we prepared this downloadable and editable advertising funnel template, complete with marketing suggestions for each stage of the funnel.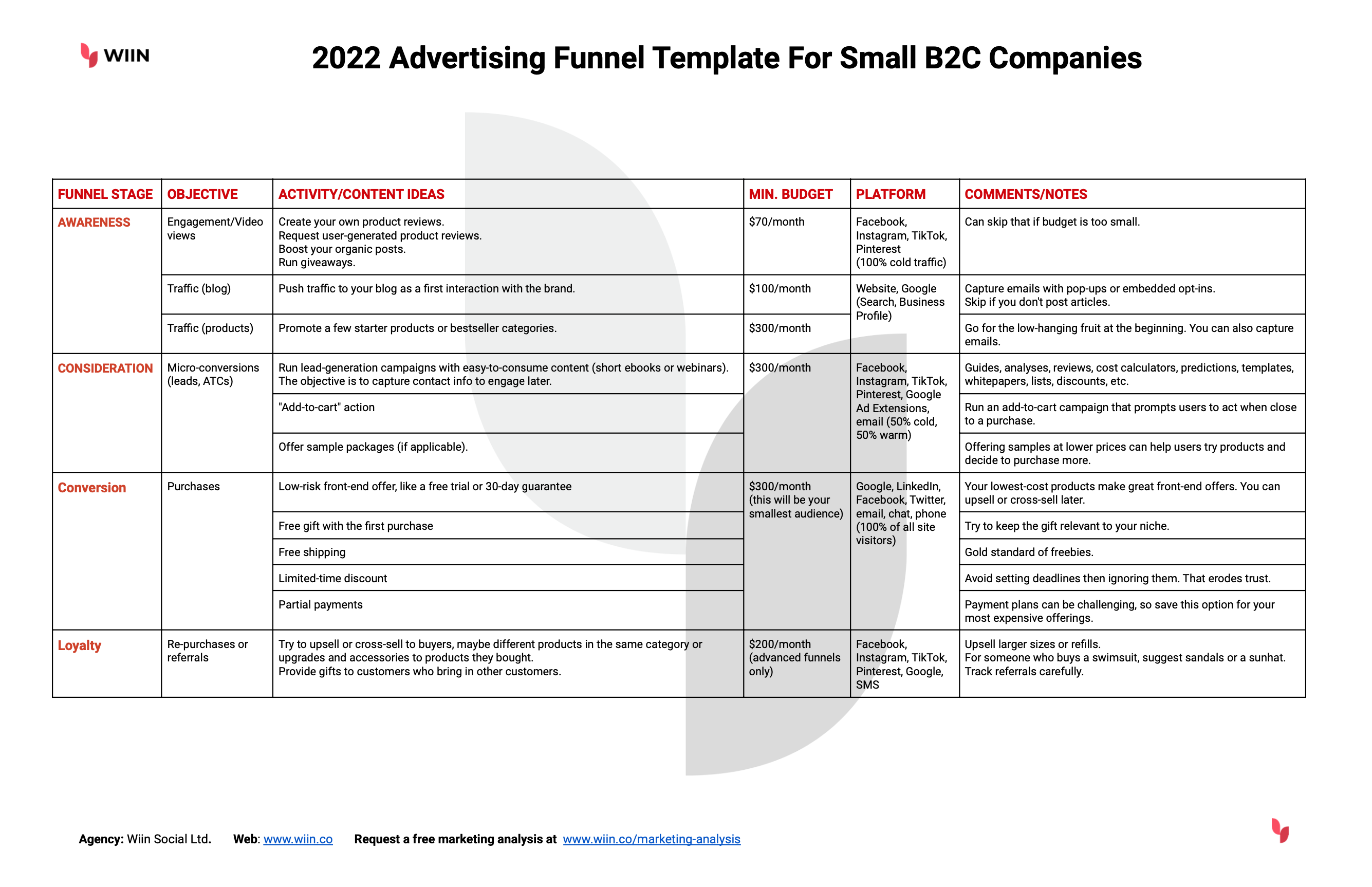 Download it and adjust it to your needs and resources. You can also start your marketing efforts with our free marketing review to discover opportunities and get ideas. Feel free to either hop right into the template or keep reading to learn more about how to use the suggestions.
Better Marketing Performance is Ready for You. Are You?
Awareness
If you're a local business that can ship nationally or internationally, you'll always benefit from an awareness campaign that provides your expertise, offerings, product or service reviews, behind-the-scenes, and more.
For example, a hair salon can show before-and-after photos of the latest dye technique, post makeover videos, share pomade reviews, and offer cool styling ideas. Now prospects can easily see how good you are and get to know your personality. Awareness, engagement and video-view campaigns are good choices here.
For local companies, it's important to create a complete Google Business Profile with directions to your shop, customer reviews, contact info, and your official website. If you sell products like shoes, Google gives you the opportunity to show and sell your inventory online.
A neighborhood coffee shop can go national or even international by advertising and distributing its exclusive blends. Charm java lovers with detailed explanations of your concoctions, recommendations on the best tools for the perfect cup, video reviews, and more. You can expand your reach and revenue with a good marketing strategy and a decent cellphone.
Google Search or Shopping campaigns are also part of the initial traffic and awareness stage, giving prospects a chance to get to know you. Social media campaigns can drive good traffic too.
But keep in mind that user behavior on Google and social media are different! People usually look for answers on Google and entertainment on social media, so adjust your strategies accordingly.
Consideration
Once people know your business exists, you need to prove that you're worth thinking about. Micro-conversions can capture interest and convince your viewers that you can help them.
In e-commerce, an add-to-cart action is a classic micro-conversion that demonstrates interest in your products. Offering a discount or guide in exchange for contact info is another great way to generate leads that works both locally and online.
An e-shop selling natural products can offer a list of the top ingredients to avoid in moisturizers so readers know which companies are merely greenwashing. And our hair salon from the earlier example can offer a free downloadable guide for easy night-out hairstyles or tips on how to care for your hair type.
Warm-traffic (retargeting) campaigns give the best cost per lead, but it takes time to build a warm audience. Sometimes you just have to target cold audiences or dedicate more resources to awareness (traffic, clicks, video views, engagements).
Most advertising platforms offer native lead ads that capture leads without sending them to a website. But we recommend testing these ads against a lead-generation campaign that takes users to a landing page and converts them to leads. And don't forget email marketing! It can take several interactions with a brand before a prospect decides to buy. Email marketing lets you nurture subscribers with valuable content and provide exclusive offers to persuade them to the next step.
Conversion
At this point, you've developed some visibility and trust with your audience. But remember, a first-time purchase from a new brand often feels risky for a customer.
Make it easier by suggesting a solid front-end offer, such as a small sample, free shipping, a discount, or partial payments. You can also start with a cheaper product and then build up to your higher tiers by cross-selling and upselling.
Conversion campaigns work best on warm audiences, because it's hard to convince someone who has never heard of you before to buy from you.
Loyalty
Upselling and cross-selling to existing customers is much cheaper than winning new customers. You can build loyalty by delivering excellent products and customer service. You can generate a sense of community by posting user reviews and photo galleries. Best of all, you can let your happy customers bring you new customers with a referral program.
Want help?
The structure of each sales funnel and specifics of each campaign will depend on your company's resources and offerings as well as your market and target audience.
It can feel overwhelming to build and adjust a digital marketing strategy, even a simple sales funnel, if you've never done one before – or worse, done one that flopped.
But with Wiin's free marketing review, you can take the first step to finding digital marketing opportunities specifically for your business. Contact us and let us show you how!
Better Marketing Performance is Ready for You. Are You?