2022 advertising funnel template for small B2B companies
Mitka Yanakieva
Founder & Chief Executive Officer
Est. reading time:
4 minutes
As a small business, you have to be wise and creative with your resources to get the results you want. Clear goals, a good strategy, and patience are mandatory for success. To help you, we prepared this downloadable and editable funnel template with marketing suggestions for each stage of the funnel.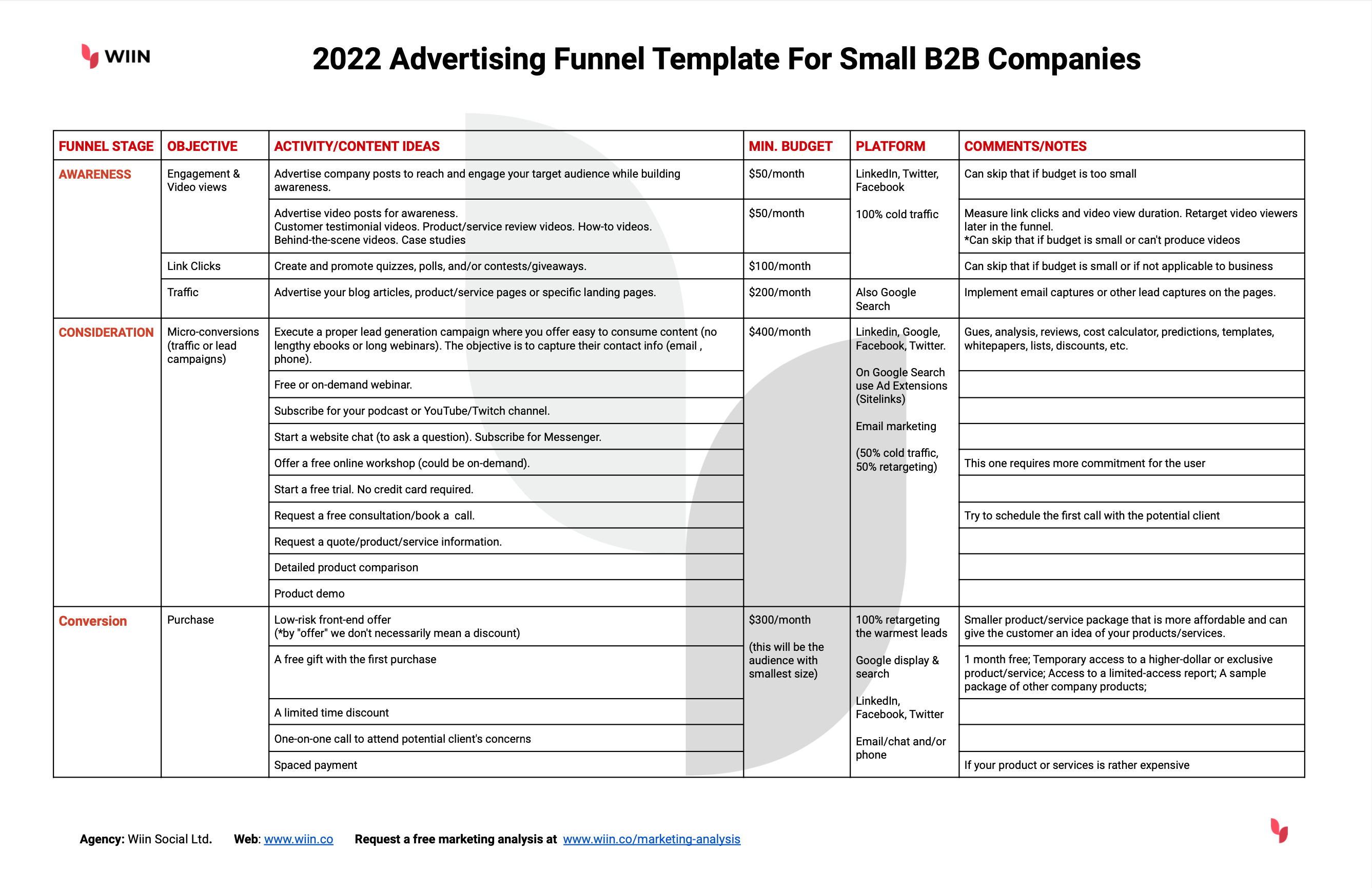 Download it and adjust it to your needs and resources. You can also start your marketing efforts with our free marketing review to discover opportunities and get ideas.
Better Marketing Performance is Ready for You. Are You?
You're welcome to begin with the template right away or keep reading as we explain the funnel and give examples for each stage.
Awareness
People need to know your company exists to consider buying from it. Fortunately, you have many activities to choose from that can get you in front of your target audience. Awareness, video-view and engagement campaigns are good approaches if you have pricey products or limited resources to produce written content frequently.
It's easy to share behind-the-scenes photos and videos of company activity as well as reviews and product comparisons. You can also consider livestreaming company events (product trials, Q&As, etc.) and posting client testimonials, podcasts and case studies.
If you're a construction company, you can post before-and-after videos, material reviews to demonstrate your expertise, or project proposals that show your creativity. Just a few quality content pieces a month can build your credibility and grow the business.
Click campaigns can help if you want to engage users and qualify leads without a blog. Use quizzes, polls, contests or webinars. People who click through and complete the activity will be prompted to the next step of the funnel.
For example, a company that sells entrepreneurial courses for bookkeepers can reach a prospect with a "Bookkeeper Ability Assessment" quiz. The call-to-action can be as simple as "See if you qualify to become a digital bookkeeper. Take the assessment!"
Intrigued prospects will take the quiz, and when they receive their results, they'll be encouraged to learn more through a free educational video series, course demo or 10-minute sales call.
If you lack the resources to create and promote content, you can at least run a traffic campaign that sends people to a landing page for lead generation or your webpage for an email opt-in.
Drive traffic to a page where prospects can view your offer, then convert them into leads by capturing their emails. For a lead magnet, you can offer downloadable resources (guide, checklist, template, portfolio) or a free consultation.
If you have a blog, just driving traffic to that can be a great first step to building a relationship with your future clients.
Consideration
Once people know your company exists, make sure they consider you among their final options. Micro-conversions can capture interest and convince prospects that you have the right solutions for their particular problems.
A lead-generation campaign can target a cold audience, people who have never seen you before, or a warm audience, people who've seen your site or content. You want to capture contact info here, so offer an item in exchange that provides real value and is easy to consume. You can use podcasts, free consultations, comparisons, demos, and more.
Warm-traffic (retargeting) campaigns give the best cost per lead, but it takes time to build a warm audience. Sometimes it makes sense to target cold audiences or dedicate extra resources to awareness first.
Most advertising platforms offer native lead ads that capture leads without sending them to a website. However, we advise you to test such ads against a lead-generation campaign, which moves users to a landing page where they can get more information and become leads.
And remember email marketing! It usually takes between 4 and 8 interactions with a brand before a prospect makes a purchase. Email marketing allows you to provide subscribers with valuable content and offers until they decide to take the next step.
Conversion
People who get this far in the funnel definitely see the value in your services or products. So at this point, you need to put in the effort to seal the deal. Sometimes just offering a one-on-one call to hear their specific needs and attend to their concerns can open the door for a purchase.
Or suggest a low-risk front-end offer so they can test you for a good fit. You can recommend a small sample, one of your less-expensive offerings, or a payment plan. You can also offer an extra gift, larger quantity or special discount with the first purchase.
While you can attempt a conversion campaign on a cold audience, your resources would be better invested in retargeting warm audiences. It's hard to sell to someone who has no relationship and trust with you.
Want help?
The structure of each sales funnel and the specifics of each campaign will depend on your resources, offerings, market and target audience. Building a sales funnel from scratch can be challenging, never mind interpreting its data and adjusting to suit.
Wiin can help.Take advantage of our free free marketing review to discover digital marketing opportunities that will work for your business.
Better Marketing Performance is Ready for You. Are You?